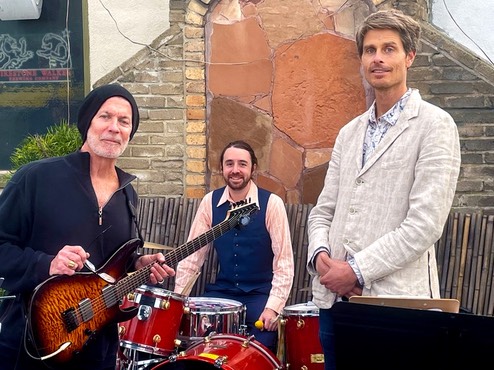 A Talent For Mischief is a San Francisco trio consisting of founding member Kevin Coffey on guitars, Gibson Verkuil on bass and Tim Stein on drums. Having played dozens and dozens of shows all over California the band is preparing to unleash their music to the world with the release of their first album later this year. 80% original music and 20% carefully selected covers, the band draws on influences as diverse as Big Band Swing, Sam Phillip's Sun Studios and the classic American pop songbook to grunge, indie and early punk. Unique, hooky songs, short, sweet and to the point that stay with listeners long after the show is over. One friend of the band has said "Timeless, tasty stuff. Easily accessible sound. Intriguing lyrics".  UNLEASH THE SOUNDS!
Founding member KEVIN COFFEY (guitar, vocals and main song writer) has performed in bands for years, and an Elvis cover band he was in toured nationally, opening for acts as diverse as The DelRubio Triplets to the Chambers Brothers.
Coffey is a professional artist, animator and illustrator. Comic strips featuring his own characters have appeared in national publications and his work as a special effects animator for blockbuster motion pictures has been seen by tens of millions of people.
He's illustrated dozens of books and has provided art/ animation for clients ranging from The Boston Red Sox to Tim Burton, George Lucas, Disney and many other household names.
Kevin's art website is here: 
http://cartoonlandanimation.com
GIBSON VERKUIL (bass, vocals and song writer) enjoys listening to and playing all kinds of music, from the "power pop" of A TALENT FOR MISCHIEF to Chopin mazurkas. In addition to performing with ATFM he plays with the SF Civic Strings ensemble.